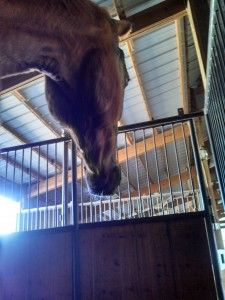 The end of another year and the beginning of a new one is next . . . When did that happen!? It feels as though fall just got here and now they tell me it's gone! While finding myself in the midst of the hustle and bustle of Christmas and before it roars past us, I want to share what a few of our beloved barn friends (two and four-legged) are saying about this Christmas season and what they look forward to most. Here are their responses:
Abby-
"Giving gifts and making all the Christmas desserts!"
Buster, the kind school horse-
"My favorite is when the kids share with me their Christmas candy. I really love the mints"!
Maya-
"I'm looking forward to 'secret pals'. It's where we do a secret good deed for others in our family and each time we do a good deed, we get to add straw to Jesus' manger and by Christmas he has a bed of straw."
Blu, the handsome horse-
"The best part is the Christmas parade, coming up December 21st, where all the kids come out and decorate us horses and display how beautiful we are! (And of course, if you ask anyone who the most beautiful horse in the barn is, the correct answer is me! But don't tell the others. J )
Tori-
"Food!"
Baylee, the gentleman of all horses-
"The love that all the students share with me and the tender brushing. The treats are good too!"
Elle-
"The presents and food!"
Mug, our newly adopted cat-
"This is my first Christmas to be around for, and I'm really enjoying myself. Between riding behind the students on the warm horses and the warm saddle pads left on the arena wall while the kids ride bare-back that I nap on, it's really the 'cat's meow'!"
Myah-
"I'm really excited for the Christmas parade and going to visit all my cousins!"
Hailey-
"We get to see cousins and go to Colorado!"
Tori-
"I'm looking forward to family and presents!"
Even as we go through this season and commemorate with gatherings, food and presents, let us not forget what it is we are to truly celebrate; the greatest gift to all mankind, God's Son, Jesus who breaks every chain and has come to set us free! "For God did not send his Son into the world to condemn the world, but in order that the world might be saved through him." John 3:17
Enjoying this special time of year,
Gracia for the Still Waters Equestrian Academy Team