Still Waters Equestrian Academy is looking forward to our 2023 Summer Day Camps. Schedule will be available and registrations will be live beginning January 15.  Please contact us if we can provide any information before that time!  
Camps are targeted towards youth ages 5– 12 with a half day camp for younger riders and a full day camp for riders 8 and older. We also offer a special Mother-Daughter camp experience.
Day camps teach horse care, anatomy, design and horse behavior while emphasizing the character building skills that horsemanship develops.
All camp sessions must be secured by a $100 non-refundable deposit ($50 Pony Pals) with reservation form. Although each session of summer camp is customized for the group attending, all sessions include:
Safety - On the ground and on the horse.
Grooming - Hands on - keeping horses clean and healthy. 
Tacking - Learning how to identify, use, and care for equipment.
Riding - All styles of riding introduced throughout the week-long experience for beginner through advanced riders.
Feeding - Learning about the nutritional needs and taking part in feeding the horses.
Games - On and off the horse.
Crafts - Horse inspired crafts to create and take home.
Anatomy, Breeds and Markings
Maintenance - An overview of what is involved with horse ownership.
Demonstrations and visits
Health care - Learning how to keep your horse healthy and happy.
Training - Lunging, ground work, and starting young horses.
Riding Styles – Different riding disciplines demonstrated
Closed toed shoes or boots with a smooth sole and a low heel for the safety of the rider. Long pants. No bare bellies. Sunblock. Water and snacks provided. Refrigerator available.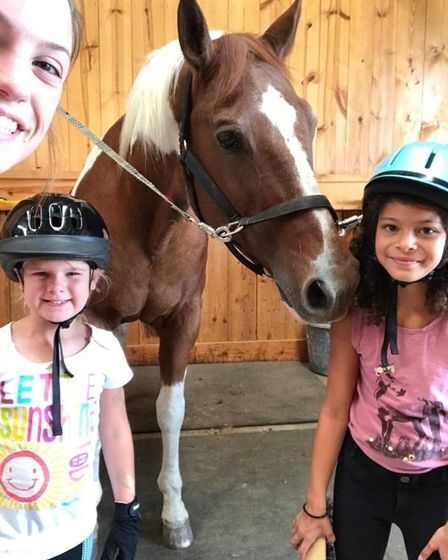 2023 Summer Day Camp Schedule 
PONY PALS $175
9am – noon
A mini 3 day camp for students ages six (6), seven (7), and eight (8).
May 30 - June 1
June 13-15
July 18-20
HORSES: HEAD TO HOOF $400
9am – 3pm
A great opportunity for new or infrequent riders to learn and advanced through a week of basic horsemanship skills. No previous experience required. Participants must be eight (8) or older.
June 5-9
June 19-23 - Sorry, this camp is full
June 26-30
July 10-14
July 24-28
MOTHER/DAUGHTER CAMP  $180
A special time for mothers and daughters to bond and grow in their relationship while sharing in the experience and fun of horses and riding together
 9 am – noon  - Wednesday, Thursday, July 5,6 - sorry, this camp is full
Online Registration opens Monday, January 16 at 8 am.