Git-R-Done Foundation to raise a barn, and hope, for equine therapy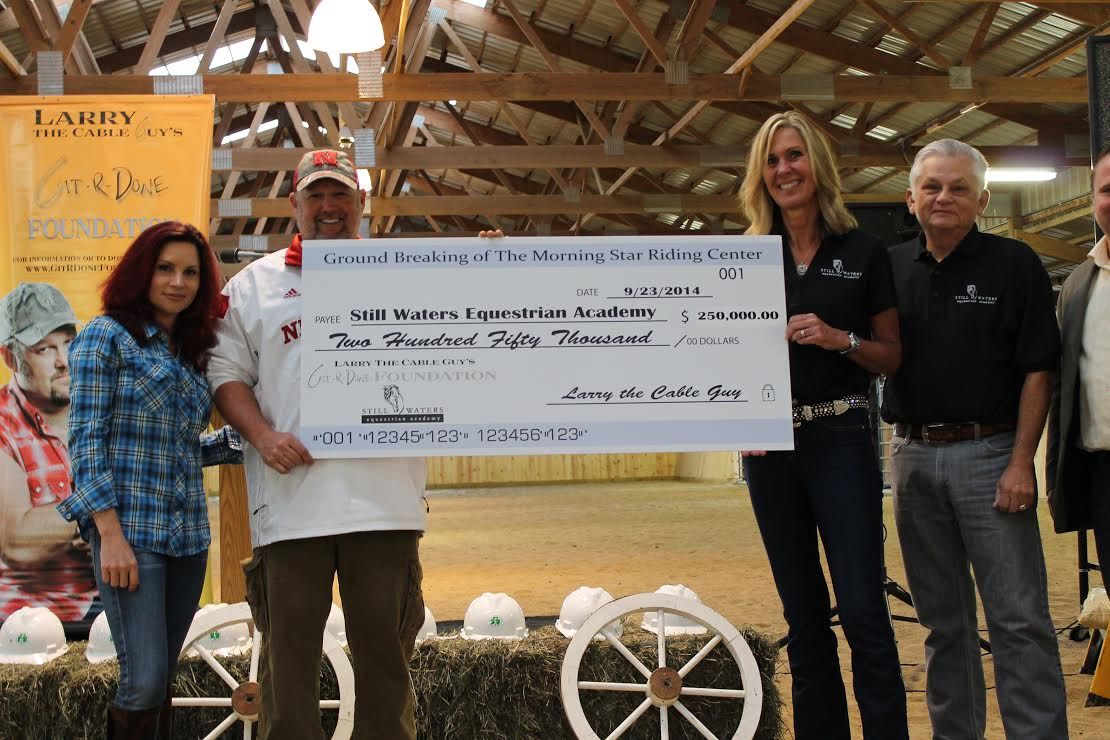 HICKMAN, NE- September 23rd, 2014- Larry the Cable Guy and The Git-R-Done Foundation are taking a dream and turning it into a reality. A ground breaking ceremony was held on Tuesday to introduce The Morning Star Riding Center, a new horse barn and indoor arena that is part of The Still Waters Equestrian Academy. The goal is to have the structure built and fully operational by spring of 2015.
"We are so excited for this project!" said Larry the Cable Guy, AKA Dan Whitney. "My wife Cara and I are big horse lovers and we have seen first hand the positive effect horses provide for those with both physical and emotional challenges."
The Git-R-Done Foundation is providing a large portion of the funding by making a $250,000 donation. The Morning Star Riding Center plans to offer hippotherapy and therapeutic riding. Hippotherapy refers to the use of the movement of the horse as a treatment strategy by physical therapists, occupational therapists and speech/language pathologists to address impairments, functional limitations and disabilities in patients with neuromotor and sensory dysfunction. Therapeutic riding is an equine-assisted activity for the purpose of contributing positively to the cognitive, physical, emotional and social well-being of individuals with special needs.
"We want to extend our mission of sharing God's gift of horses by serving individuals with disabilities and their families in Lincoln, Nebraska area," said Char Cole, Executive Director of The Still Waters Equestrian Academy. "This donation will build a facility that will allow us to expand our equestrian services program to people with all levels of abilities."
The new facility will feature a heated indoor riding arena with stalls, paddocks, supportive adaptive equipment, therapy room and parent and volunteer training rooms. The Morning Star Riding Center's equine therapy will compliment The Still Waters Equestrian Academy that provides boarding, training, lessons and summer camps for horse lovers in the area.