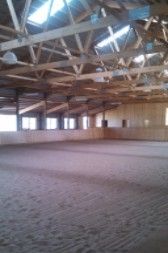 Indoor Arena:
Riders at Still Waters Ranch have access to our bright, well ventilated 180′ x 60′ indoor arena. Arena footing is level sand that is dust free due to the addition of a highly specialized product that is horse, human, and environmentally friendly. Mirrored walls assist riders at all levels with their form. A large, heated classroom shares a windowed wall with a portion of the arena, allowing friends and family plenty of comfortable seating to watch indoor rides.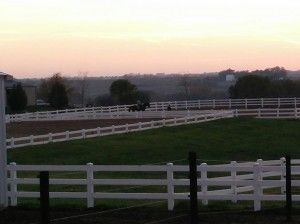 Outdoor Riding Amenities:
Our 240′ x 120′ outdoor arena is easily accessible from the barn and set amidst picturesque, park-like landscaping. Outdoor tables and benches are conveniently located in both high sun and high shade areas for comfortable viewing of outdoor rides or just a nice afternoon picnic. Other outdoor amenities include a round pen for training and 40+ acres of scenic Nebraska plains for trail rides.


Preparation & Equipment Storage:
Our boarders enjoy the use of a customer-dedicated tack room for saddles, bridles and grooming supplies. The barn features three spacious grooming stalls with cross-ties, an outdoor wash rack, and a large, heated restroom for rider preparation.